Serge Moscovici
Un regard sur les mondes communs

Ouvrage édité par Nikos Kalampalikis, Denise Jodelet, Michel Wieviorka, Denis Moscovici, Pierre Moscovici à paraître le 23 mai dans la collection 54.
L'annonce du décès de Serge Moscovici, le 15 novembre 2014, a suscité dans la communauté scientifique, les milieux politiques et les médias une émotion qui s'est traduite par nombre de témoignages célébrant son œuvre multiple, son engagement social ou évoquant l'histoire vécue et la personnalité qui les ont étayés. Ces témoignages ont été épars et jusqu'à présent aucune vision synthétique n'a été offerte pour cerner la richesse des apports d'une pensée dont l'empan a couvert tous les champs des sciences humaines et sociales, ouvrant des perspectives innovantes pour la recherche. Pour honorer cette figure majeure des sciences humaines et sociales, la Fondation Maison des sciences de l'homme, a organisé, à l'initiative des fils de Serge Moscovici, un colloque international en 2017 à Paris qui a réuni des spécialistes internationaux des divers domaines auxquels cet auteur a dévolu son activité (psychologie sociale, écologie politique, sciences humaines et sociales). Le présent livre constitue une trace et un prolongement de cette initiative. Il comprend vingt textes de trente auteurs, issus de treize pays différents, influencés, marqués et inspirés par son œuvre singulière. Nous avons ajouté, en fin d'ouvrage, la reproduction d'un texte peu connu, rare et unique, l'exposé de soutenance de Serge Moscovici en 1961, ainsi que l'hommage appuyé qui lui a été rendu peu après son décès par le comité de direction du réseau international (REMOSCO) qu'il a créé, peu avant sa disparition, à la Fondation Maison des sciences de l'homme à Paris.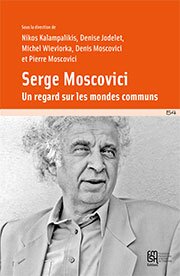 Parution le 23 mai 2019
Éditions de la Maison des sciences de l'homme, Paris
Support Livre broché
Nb de pages 250 p.
ISBN-10 2-7351-2475-4
ISBN-13 978-2-7351-2475-6
GTIN13 (EAN13) 9782735124756
Acheter le livre via le Comptoir des presses universitaires
---
Sommaire
Nikos Kalampalikis, Denise Jodelet, Michel Wieviorka, Denis Moscovici et Pierre Moscovici – Introduction
Pierre Moscovici – Préface
Alain Touraine – Hommage à un ami
Partie I – L'homme Moscovici
Denise Jodelet – Un homme de silence et de présence
Gina Philogene – Remembering Serge Moscovici and the Making of EASP
Partie II – Écologie politique
Paula Castro – The Legal and the Legitimate: Re-opening Sophocles' Antigone for revisiting the tensions in the biodiversity debate
Laurent Samuel – L'implication de Serge Moscovici dans les mouvements écologistes      
Partie III – La psychologie sociale
Ewa Drozda-Senkowska – Le dédi de l'étude des phénomènes collectifs : le groupe en psychologie sociale
Geoge Gaskell – Serge Moscovici, a Tribute to a Conceptual Maverick
Jean-Pierre Pétard – Serge Moscovici et le Bulletin de psychologie. Une amitié cordiale et attentionnée depuis plus de soixante-cinq ans
Bernard Rimé et Dario Páez – Émotions collectives et représentations sociales    
Partie IV – Influence et minorités
Ivana Markova – 'La dissidence d'un seul' : relations between social representations and minorities' innovation     
Charlan Nemeth – The Shoulders of a Giant: Homage to Serge Moscovici
Stamos Papastamou – Se représenter l'influence : vers un dualisme théorique ou la bilatéralité de la pensée sociale ?         
Partie V – Les représentations sociales : actualités et impact dans le monde
Annamaria Silvana de Rosa – For a Biography of a Theory
Sandra Jovchelovitch – The Power of the Idea: The Legacy of Serge Moscovici
Nikos Kalampalikis – Pour une psychologie sociale de la connaissance
Dorra Ben Alaya, Brigido Vizeu Camargo, Martha de Alba, Ida Galli, Risa Permanadeli, Susana Seidmann – Diffusion et pouvoir heuristique de la pensée de Serge Moscovici dans le monde
Partie VI – Sciences sociales et histoire des sciences
Serge Galam –Quand un Serge rencontre un autre Serge ou Les groupes brisent spontanément leur symétrie
Jorge Correia Jesuino – Penser les sciences avec Moscovici           
Michel Wieviorka – Sociologie des sciences : une nouvelle époque
Edgar Morin – En guise de clôture
Juan Antonio Pérez, Nikos Kalampalikis, Saadi Lahlou, Denise Jodelet, Thémis Apostolidis – Exposé de soutenance.
In memoriam : Serge Moscovici (1925-2014)
---
Published at 6 May 2019