from 27 to 28 November, 2017
Exiting violence, build peace and historical memory
International colloquium - 27 & 28 november 2017
One year after the peace agreement between the Colombian government and the FARC (Revolutionary Armed Forces of Colombia), this colloquium wants to cross-reference post-conflict experiences in Colombia, Latin America and other parts of the world.
The main topics will be peace processes and their follow-up, emergence of new violences, transitional justice, social movements and cultural creations linked to exiting violence, and relations between memory and History.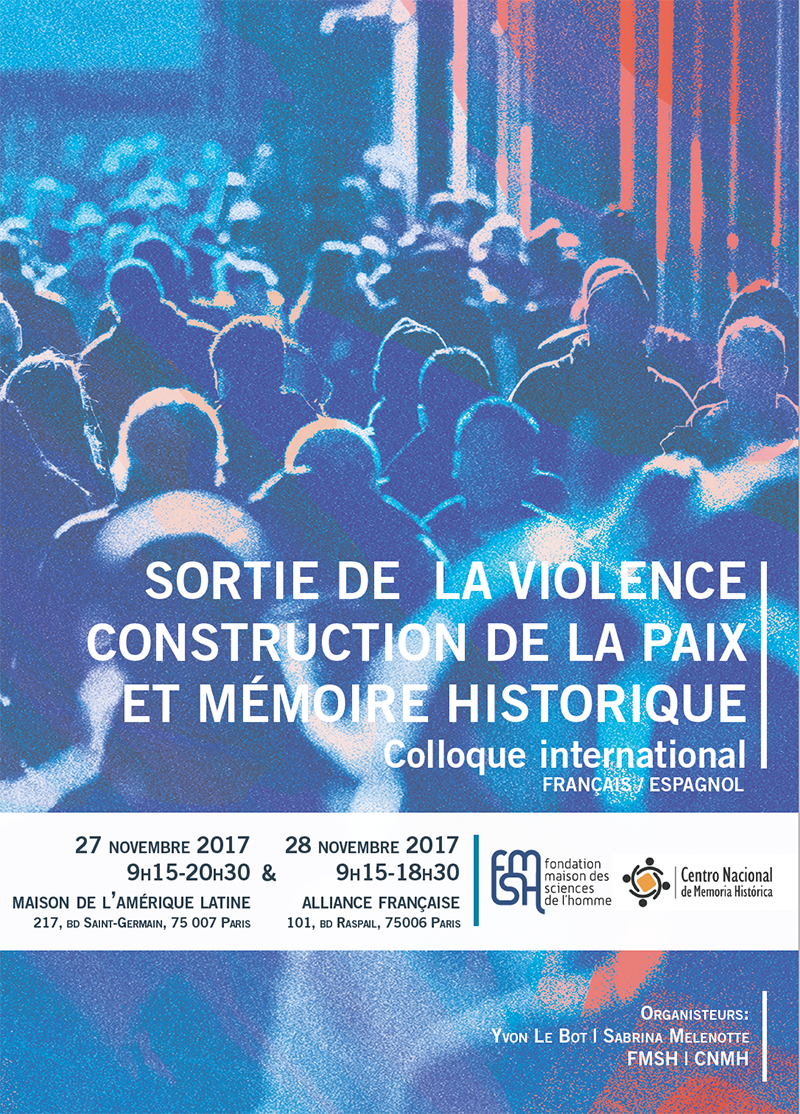 This colloquium, oraganised by the chair Global Destinies of Latin America, the Centro Nacional de Memoria Histórica de Colombia and the Violence and Exiting Violence Platform, is part of the France-Colombia year programme. It follows up exchanges and reflexion on the same topics initiated during a conference in Bogotá in June 2017.
 
Compulsory registration at the following address: smelenotte@msh-paris.fr
Download the programme (French version)
---
Programme |

27 november 2017
Maison de l'Amérique latine, 217 bd Saint-Germain, 75 007 Paris
Session chariman | Christian Gros, IHEAL, Art center La Fenêtre, Montpellier
9:15-10:00 a.m. Opening
| Jean-Pierre Dozon, FMSH vice president; María Emma Wills, Centro Nacional de la Memoria Histórica, Bogotá; Yvon Le Bot, Collège d'études mondiales, FMSH; Anne Louyot, curator of the Year France-Colombia
10:00-10:30 a.m. Introduction
| Michel Wieviorka, FMSH president
10:30 a.m. - 12:30 p.m.
Negociations, agreementss, political processes I
| Andrés Suarez, CNMH
"Paz esquiva: Polarización política y sociedad dubitativa"
| Eduardo Pizarro, former ambassador of Colombia in Holland
"Las Fuerzas Militares: de opositores radicales a actores fundamentales de la paz"
| Daniel Pécaut, EHESS
"Deficiency of the national symbolic, fragmentation of forms of power and reading of temporality threw the context of violence in Colombia"
| Jean-Marc Laforêt, former ambassador of France in Colombia
Lunch break
Session chariman | Jean-Pierre Dozon, FMSH
14:15 p.m.
| Screening of the short film of Jérôme Mars "Leydi, FARC-EP"
14:30-16:30 p.m.
Negociations, agreementss, political processes II
| Yezid Arteta, Universidad Autónoma de Barcelona, former FARC commandant
"FARC y ELN: Cierre del ciclo de la lucha armada en América latina"
| Olga Lucia González, Université Paris-Diderot, URMIS
"Emergence and challenges of the gender question in the peace process"
| David Garibay, Université Lumière Lyon 2, Triangle
"The peace process with the FARC regarding the outcome of peace processes in Central America"
| Gorka Landaburu, Cambio 16
"De la violencia a la convivencia hasta la reconciliación"
16:30-17:45 p.m.
New violences
| Luis López, Ecole nationale supérieure d'architecture de Paris la Villette
"The forced disappearence in Mexico. An extreme form on violence against society"
| Antimo Farro, Sapienza Universitá di Roma
"White collar violence"
18:00-20:30 | Screening/debate of Natalia Orozco movie "The silence of weapons"
---
Programme |
28 november 2017
Alliance française, 101, bd Raspail, 75 006 Paris
Session chariman | Ricardo Peñaranda, Universidad Nacional de Colombia
9:30-11:00 a.m.
Social question, cultural creations
| Yvon Le Bot, CEM-FMSH
"Antigone in Colombia"
| Jacobo Grajales, Université de Lille 3
"Lands of peace. Land policies and exiting conflict in Colombia"
| William Ospina, writer
"Social and cultural issues of peace"
11:15 a.m. - 12:15 p.m.
Memory processes I
| Maria Emma Wills, CNMH
"La pedagogía de la memoria histórica. Desafíos de un proceso inconcluso"
| Julie Lavielle, Université Paris Nanterre, ISP
"What are the use of memory politics in Colombia? The Medellin case"
Lunch break
Session chariwoman | Maria Emma Wills, CNMH
14:30-16:00 p.m.
Transitional justice and trial
| Elisabeth Claverie, Université Paris Nanterre, ISP
"Fight against impunity vs amnesty in Ouganda. The case of Lord Resistance Army »
| Marie-Christine Doran, Université d'Ottawa,
"Transitional justice and violence resurgence"
| Sophie Daviaud, Sciences po - Aix
"Trial and violence in Colombia historical memory reconstruction"
16:15-17:30 p.m.
Memory processes II
| Ricardo Peñaranda, Universidad Nacional de Colombia
"From memory to history. Colombia seeking a positive representation of its past"
| Henry Rousso, Institut d'histoire du temps présent, CNRS
"Can we talk about a globalisation of memory?"
17:30-18:30 p.m.
Closure
| Francisco de Roux, president of the Truth Commission, Colombia (provided)
| Jean-Michel Blanquer, Minister of National Education
Cocktail
Details
International Colloquium
Monday 27 november 2017
Maison de l'Amérique Latine
Tuesday 28 november 2017
Alliance française
Ajouter à mon agenda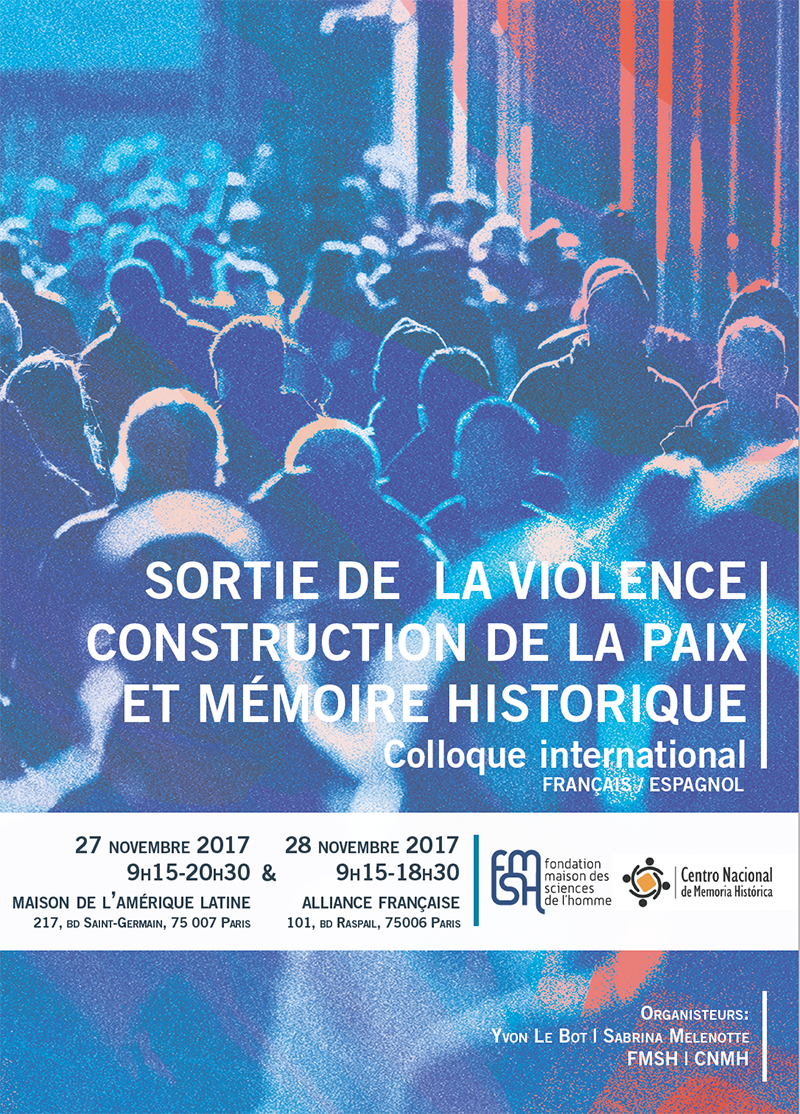 Download the programme (French version)
Compulsory registration at the following address: smelenotte@msh-paris.fr