D-TRANSFORM: University Strategies in the Digital Age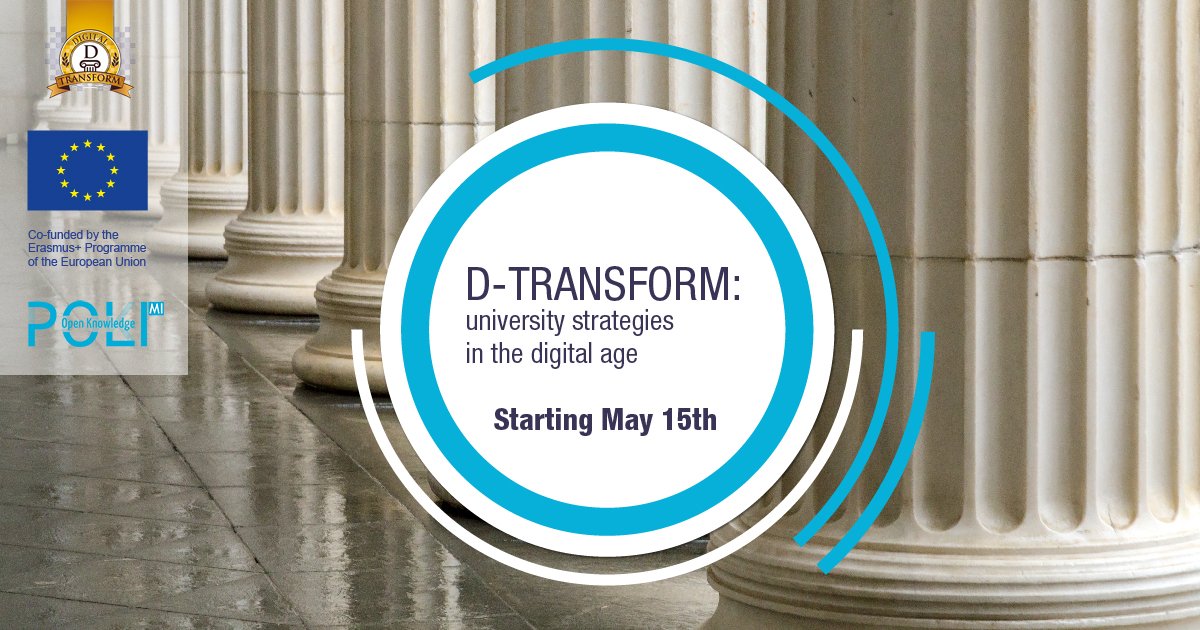 D-TRANSFORM: University Strategies in the Digital Age
The MOOC of D-Transform project
Discover with us how digital resources can be a catalyst for change in university strategies.
In the 21st century a new learning ecosystem of students, educators, and resources developed, it is important for higher education leaders to leverage the power of digital resources in order to find a strategy for change.
This MOOC is therefore aimed at raising awareness of digital resources, as a strategic factor for university transformation. The course promotes executive reflection on hands-on challenges and explores the new positioning of universities in the digital age.
The MOOC is free  and available to everyone. The target audiences is the university rectors, vice-rectors, rector's delegates for elearning, rector's delegates for university third mission, deans of faculties, directors of operational units in higher education institutions and anybody interested in the digital strategy of universities. s'adresse en particulier aux décideurs de l'enseignement supérieur.
Classes start : may 15 2017 | Classes end : july 18 2017
Estimated effort : 1-2 hours / week | Language : english
Course informations :
The course is organised into 7 weeks; each week is devoted to a specific topic:
Week 1 - Universities disrupted
Week 2 - Models for opening up education
Week 3 - OER and MOOCs as innovation drivers
Week 4 - Academic libraries and study spaces
Week 5 - Assessment and credits
Week 6 - Learning analytics
Week 7 - Overcoming academic resistance to ICT-enhanced teaching
Le MOOC is online on the italian website Polimi Open Knowledge.
This MOOC was carried out in the project D-Transform, an european project co-funded by the Erasmus+ and coordinated by the FMSH. It was produced by Politecnico di Milano, project partner.