La maison Suger
Address :
16 rue Suger
75006
Paris
,
Paris (75)
France
Schedules :
The Maison Suger is located a short distance from the Fondation Maison des Sciences de l'Homme, the Collège de France, the École des Hautes Études en Sciences Sociales, the École Pratique des Hautes Études, the National Political Science Foundation, central Parisian universities (I to VII), as well as numerous libraries, research centers, and cultural institutions.
Located in central Paris in the heart of the Latin Quarter, the Maison Suger has a prized geographical location. It is served by all Parisian public transportation (metro, bus, train, airport).
Public Transportation
RER (station: Saint-Michel/Notre-Dame), with direct lines to Roissy and Orly, Paris' two main airports.
Closest metro station: Saint Michel (exit at Place Saint-André-des-Arts), but also: Odéon, Cluny-Sorbonne, etc.
Several main bus lines: 21, 24, 27, 38, 47, 84, 88, 96, etc.
Contact :
Director of the Maison Suger:
Jean-Luc LORY, CNRS – Assistant Administrator of the FMSH
tel: + 33 1 44 41 32 06
Secretariat and management:
Françoise Girou
tel: + 33 1 44 41 32 01

Nadia Cheniour
tel: + 33 1 44 41 32 06
Marie-Thérèse Cerf
tel: + 33 1 44 41 32 10
Maintenance:
Xavier Migette
tel: + 33 1 44 41 32 00
Presentation
The Fondation MSH's Center for International Research, Hosting, and Cooperation for High-Level Foreign Researchers.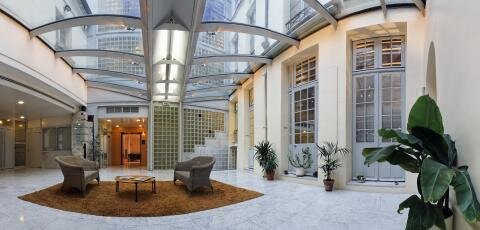 Located in Paris' historical Latin Quarter, the Maison Suger was created by the Fondation Maison des Sciences de l'Homme (literally, House of the Sciences of Man Foundation) in 1990 in order to give foreign researchers in the social and human sciences needing to spend time in Paris – for long periods in the framework of collaborations with French and foreign teams and researchers – a working and living environment adapted to their needs. It also strives to promote exchanges between researchers from all disciplines and nationalities in order to generate fresh perspectives and new projects/programs of scientific cooperation.
The FMSH covers nearly one-third of the Maison Suger's overall operating costs. This enables the Maison to offer the best possible living and working conditions to all foreign researchers who spend time at this institution.
The Maison Suger is managed by a team. They maintain the welcome desk and offer scientific support to invited researchers.
Each year, Maison Suger submits an activities report to the International Board in charge of ensuring that the Maison operates according to the wishes of its founders and of making suggestions regarding new policy directions.
Since December 2007, the Maison Suger has been housing most of the infrastructures of the Institute of Advanced Studies-Paris.
Creation
The Maison Suger project was launched in 1985 by Fernand Braudel – then administrator of the Maison des Sciences de l'Homme – with the help of Hélène Ahrweiler, Rector-Chancellor of the Parisian universities. The project was carried out thanks to the support from numerous French and foreign institutions and serves as an example of international cooperation. The buildings were handed over to the FMSH by the Academy of Paris under a long lease. The FMSH financed nearly 50% of the building's renovation costs. The rest of the Maison's renovation costs, as well as its furnishings, were largely covered by the Volkswagen Foundation, but also thanks to the financial support from the Ministries of National Education, Culture, and Research, and the City of Paris. Numerous donors then joined the initial partners. The buildings' renovations respected the original architectural layout and the environment of the district. Antoine Grumbach, the architect, attempted to lay out the building in such a way so as to meet the needs of individual work as well as collective reflection.*
Maison Suger's donors
Chancellery of Parisian Universities ; French Ministry of National Education, Higher Learning, and Research ; French Ministry of Culture and Communication ; City of Paris ; Norwegian Ministry of Research ; Austrian Ministry of Science and Research ; Russian Academy of Sciences ; Swedish Council on Research in the Social and Human Sciences ; Volkswagen-Stiftung, Hanovre ; Fritz Thyssen Stiftung, Cologne ; Deposit and Consignement Office, Paris ; Insurance Union of Paris ; Crédit Industriel et Commercial, Paris ; Air-France ; Cambridge University Press, Cambridge ; Bank of France, Paris ; Mrs. Annette Schlumberger, Paris ; Pr. Louis Dumont, Paris ; Pr. Rudolf Vierhaus, Göttingen ; Mrs. Fernand Braudel, Paris ; Pr. Luis C. Bresser Pereira, Sao Paolo ; Pr. Burkart Lutz, Munich
Maison Suger's International Council
Individual Members
Hélène Ahrweiler, Rector of the Paris'Academy, President of the University of Europe, Paris ; Georges Dertilis, Professor, University of Athens ; Etienne François, Professor, University of Paris I ; György Granasztoi, Professor, Eötvös Loránd University, Budapest ; Hans-Jürgen Lüsebrink, Professor, Saarland University, Sarrebruck ; Bo Öhngren, Professor, Uppsala University
Institutional Members
Rector, Academy of Paris ; Administrator, Fondation Maison des Sciences de l'Homme ; Director, Maison Suger
Auditors
Representative, Volkswagenwerk Foundation ; Representative, Norwegian Council of Social Sciences
Council Secretary
Joachim Nettelbeck, Wissenschaftskolleg, Berlin
Photos
Reception Conditions
The Maison Suger is open to all high-level foreign professors and researchers seeking to come to Paris for one month to one year maximum (stays of less than a month are possible according to the schedule) for teaching and/or research purposes.
Applications may be sent by researchers themselves or their organization, or by the research institution that invited them. Applicants for long-stays in the framework of a precise research program with the French scientific community are given priority.
The apartments are specifically designed for the life and scientific work of a researcher. In some cases, the researcher may be accompanied by his/her partner, and in exceptional cases, by a child over twelve (for security reasons, the Maison can not offer housing to children under twelve).
Hosting Requests
Access Maison Suger Hosting Requests
Requests should be sent to the Director of the Maison Suger by e-mail, fax, or postal mail. They must include:
- a curriculum vitæ,
- a detailed research program, plus letters from French and foreign scientific partners (if applicable),
- list of publications.
Hosting decisions are made by the Fondation Maison des Sciences de l'Homme's Scientific Board. Decisions are taken based on the proposed research projects' degree of compatibility with the FMSH's lines of action. Attention is also paid to ensuring a balance between researchers' countries of origin, participating French institutions, and disciplines.
As stipulated in its statutes, the FMSH is a non-profit institution. For this reason, a portion of the Maison Suger's operating costs must be covered by the residents themselves. Housing costs are calculated in the following way: the FMSH covers roughly 30% of the Maison's operating costs, and the remaining amount is covered by the residents.
Living Environment
Settled in the Latin Quarter, the Maison Suger hosts each year close to two-hundred researchers, most of whom come to Paris for long-stays. This historical building offers thirty-three offices/living quarters (from studio to two-room) that were designed to offer occupants a fully functional and pleasant working and living environment (Wifi, television, satellite television, etc). The apartments are fully furnished with bathroom or shower and outfitted kitchen. Cleaning service is offered daily. The building also has a laundry room that occupants may use at their convenience.
The Maison Suger offers researchers: Wifi network covering the entire building, a videoconferencing room, a seminar room (large enough for forty people), smaller work rooms, as well as office equipment located in the computer lab (computers, high-speed internet, scanners, laser printer, fax and copy machine …).
The Maison Suger is managed by Jean-Luc Lory, CNRS, Deputy Administrator of the FMSH. It is operated by a team from the Foundation, which is in charge of coordinating and managing the building (research stays, scientific programs/activities, and reception desk).
Activities
The Maison Suger was designed first and foremost as a place for working and scientific exchange. The fact that the Maison houses researchers in all disciplines in the social and human sciences and from all countries makes it a privileged location for exchanges in a pluri/interdisciplinary perspective. In this sense, the Maison Suger acts as an incubator for international research projects.
The Maison Suger helps coordinate and supports scientific activities proposed by the researchers it houses. These activities are often carried out in cooperation with the necessary scientific laboratories, as well as the Foundation's Parisian networks. In addition to purely research seminars, the Maison also offers: seminars, workshops, colloquiums, summer schools, etc. These types of meetings play a large role in the social and scientific life at the Maison Suger, and promote exchanges between resident researchers and members of the French scientific community, who partake in or are invited to organized activities.